Ceago Vinegarden has vineyards in both Lake & Mendocino Counties in northern California. These two counties, along with Napa and Sonoma Counties, are collectively recognized worldwide as one of the premier grape growing regions in California. Our vineyards are just two hours north of San Francisco (100 miles).
Lake County "Del Lago and Kathleen's Vineyard"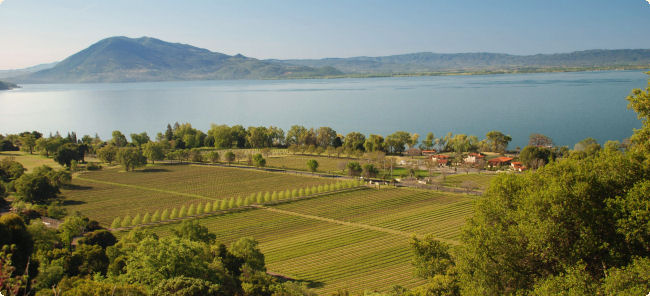 Located high above Napa, Sonoma & Mendocino Counties in the upper right corner of California's north coast wine region, Ceago's vineyards are blessed with well-drained grave-and-loam soils. The vineyards share a 163-acre estate with palm & cypress trees, olive groves, fruit trees, walnuts, figs, lavender fields, vegetable & herb gardens, agaves, and riparian vegetation.
In keeping with Ceago's holistic & Biodynamic principles, sheep & chickens roam the land, along with wild turkeys, raccoons, birds, butterflies, and native bees. All of these beings contribute to the vitality of Ceago's air & soil. Ceago Vinegarden's property on Clear Lake has received Biodynamic certification by Demeter USA, a leader in Biodynamic certification and awareness. In addition to the farm, Ceago Vinegarden offers a Tasting Room, a seasonal open-air café, a conference room, and an extra-long Pier where boats & seaplanes can dock.