Experience Vineyard Living Lakeside
Ceago is pleased to announce that we will continue to offer rentals of our Lakeside Casitas after the closure of our Tasting Room and property to the public on Thursday, August 28th, 2014. Book your stay today!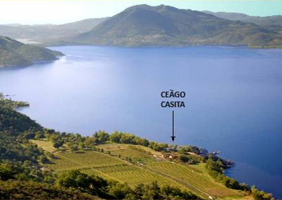 Nestled along the North Shore of Clear Lake this unique property offers the opportunity to restore your soul. The  ambiance of the Mediterranean style casitas offers a tranquil private get-a-way for all your pleasures. Awaken to the soothing songs of nature while sitting on your private patio. Enjoy a glass of wine fireside while reading a book. Stroll the luscious gardens, lavender fields and Clear Lake's longest pier. As night settles over the lake, you will be dazzled by the sunsets and starry skies. Create magic for yourself at Ceago Vinegarden!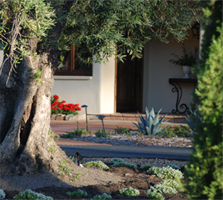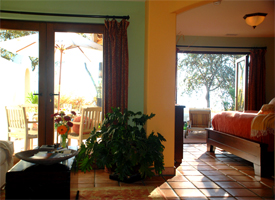 Jim Fetzer's "CEAGO Vinegarden" offers two cozy & romantic studio casitas along with a luxury villa, nestled alongside the banks of the lake, surrounded by old olive and willow trees, lavender fields and a world-class vineyard and winery.
Enjoy luxurious King and Queen-Size Beds, Fireplaces, Romantic Double Showers and Private Patios. Lake and mountain views invite you to unwind and discover the serenity and beauty of Lake County's Wine Region. Spend the day strolling the grounds, taking in the lake and mountain views and catching up on reading and relaxing.
Casitas are equipped with Flat-Screens with Satellite TV & Radio and CD players.
For information regarding booking and location, facilities and special events, please contact us at carleen@ceago.com.